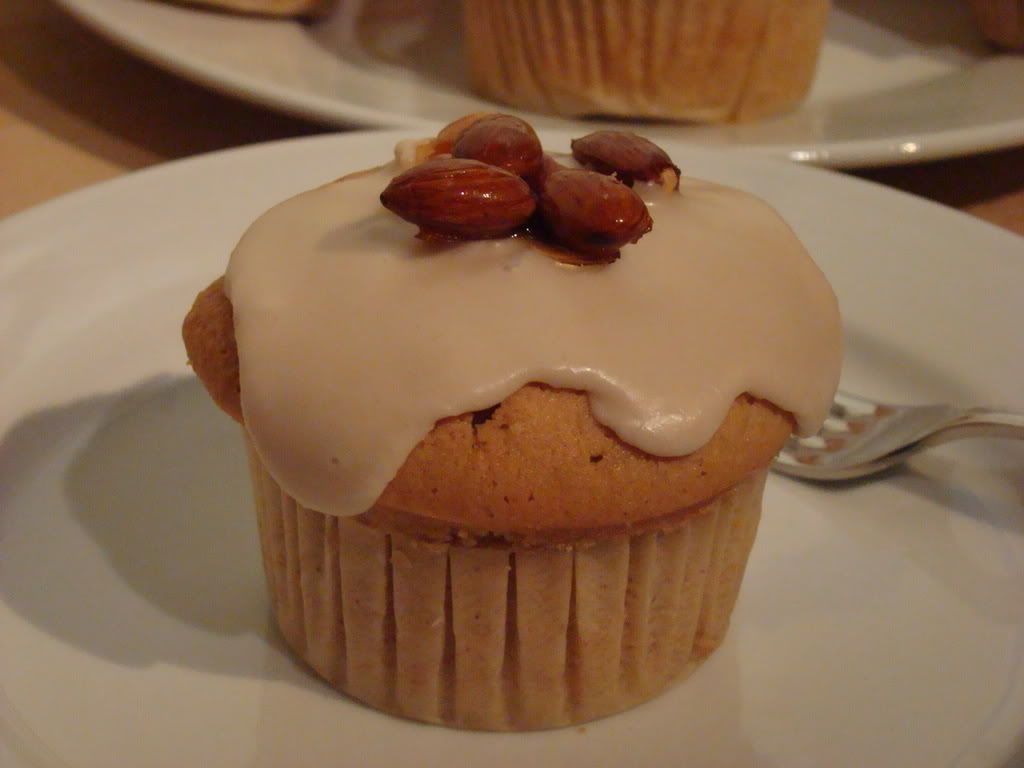 I grind the almonds in a food processor as finely as I can without them turning into butter, and then I add the granulated sugar to the food processor for a few cycles. The sugar soaks up the moisture and helps to get a finer grind to the almonds.

I've made the batter with a KitchenAid mixer and a hand-mixer. The KitchenAid seriously cuts down the prep time, and gets my vote every time. The icing can be made easily with a hand-mixer.

For the cupcakes:
1¾ cup sour cream, divided
½ pound (2 sticks) unsalted butter, at room temperature
½ cup walnut or vegetable oil
3½ cups all-purpose flour
1 teaspoon baking powder
1 teaspoon baking soda
½ teaspoon salt
2 cups granulated sugar
⅔ cup almonds, toasted and ground
4 large eggs, at room temperature
2 teaspoons almond extract
1 teaspoon vanilla extract

For the frosting:
3 cups confectioners' sugar
2 teaspoons almond extract
3 T hot water

Preparing the cake:
Preheat the oven to 325°F.

Line a medium cupcake pan with liners.

In a bowl cream 1 cup sour cream, the butter, and the oil.

In a separate bowl sift together the flour, baking powder, baking soda, and salt. Stir in the sugar and almonds.

Add the dry ingredients to the creamed butter mixture in three additions. Mix thoroughly after each addition.

In another bowl mix the eggs, ¾ cup sour cream, almond extract, and vanilla extract.

Add the egg mixture to the batter in three additions, beating for 1 minute after each addition.

Fill the cupcake liners three-quarters full with batter. Bake for 20-25 minutes or until a toothpick inserted in the center of a cupcake comes out clean. Cool cupcakes in the pan.

Preparing the frosting:
Mix together the confectioners' sugar, almond extract, and hot water.

Beat to desired spreading consistency. You may need to add more water or sugar.

Garnish with caramelized almonds, if desired.