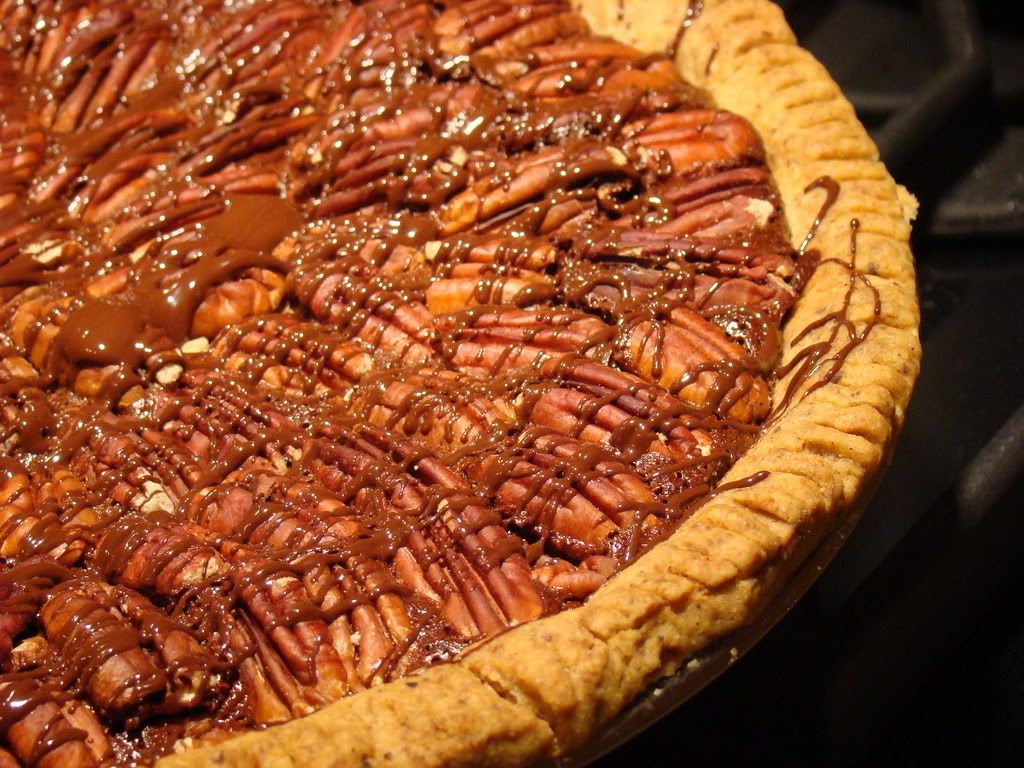 For the crust:
1¼ cups all purpose flour
1 tablespoon grated orange peel
1 teaspoon sugar
¼ teaspoon salt
¼ cup (½ stick) chilled unsalted butter, cut into small pieces
¼ cup solid vegetable shortening, cut into small pieces
1 tablespoon orange juice
2 tablespoons (about) ice water

For the filling:
3 tablespoons unsalted butter
3 tablespoons unsweetened cocoa powder
1 tablespoon whipping cream
2 teaspoons instant espresso powder or instant coffee powder
1 cup light corn syrup
1 cup sugar
3 large eggs
2 teaspoons vanilla extract
¼ teaspoon salt
1½ cups coarsely chopped pecans (about 6 ounces), lightly toasted
1 cup pecan halves

3 ounces, approximately, of a good quality dark chocolate (semi- or bittersweet, Valrona or Scharffenburger)

Preparing the crust:
Combine first 4 ingredients in processor. Using on/off turns, cut in butter and shortening until mixture resembles coarse meal. Blend in orange juice and enough water by tablespoonfuls to form moist clumps.

Gather dough into ball; flatten into disk.

Wrap in plastic and chill 1 hour.

(Can be prepared 1 day ahead. Keep refrigerated. Soften dough slightly at room temperature before rolling.)

Preheat oven to 350° F.

Roll out dough on lightly floured surface to 12-inch-diameter round.

Transfer to 9-inch-diameter glass pie dish. Trim edges and crimp decoratively. Freeze 15 minutes.

Line crust with foil; fill with dried beans or pie weights. Bake 15 minutes.

Remove foil and beans.

Bake crust until pale golden, about 10 minutes.

Cool on rack.

Preparing the filling:
Melt butter in heavy small saucepan over medium heat. Stir in cocoa, then cream and espresso powder. Pour into large bowl.

In a separate bowl, combine corn syrup, sugar, eggs, vanilla and salt; whisk until well blended. Stir in toasted pecans. Pour filling into pie crust. Place non-toasted pecan halves in a circular pattern on top, pressing down slightly into the filling.

Bake until puffed and set, about 1 hour. Transfer to rack and cool completely.

After the pie has cooled to room temperature, melt chocolate in a microwave and pipe or drip it (with a piping cone, ziplock bag with tip cut off, or a fork) decoratively over the top of the pie.

Can be made 1 day ahead. Cover and let stand at room temperature.

Serve with whipped cream.