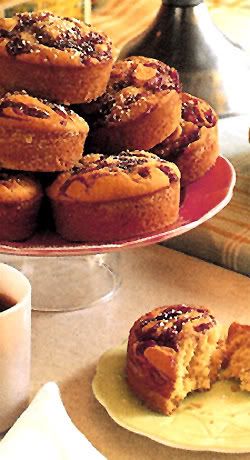 I think of a bun as being a sweet yeast dough, but these are made with baking power and baking soda, which gives them a cake or muffin crumb.

For the bun:
1 3/4 cups all-purpose flour
1 teaspoon baking powder
1/2 teaspoon baking soda
1/4 teaspoon salt
1/2 pound (one 8-ounce package) cream cheese, softened
1/2 cup (1 stick) unsalted butter, softened
1 cup sugar
2 large eggs, at room temperature
1/4 cup milk
1/2 teaspoon vanilla extract

For the topping:
1/2 cup raspberry preserves
garnish with confectioners' sugar

Preheat oven to 350 degrees.

Grease and lightly flour 9 large muffin cups.

In a small bowl, combine the flour, baking powder, baking soda, and salt. Set aside.
In a large bowl, on the medium speed of an electric mixer, beat together the cream cheese, butter, and sugar until smooth, about 3 minutes. Add the eggs and beat well. Add the dry ingredients in two parts, alternating with the milk and vanilla. Spoon the batter into the muffin cups, filling them about two-thirds full. Drop 3 small dollops (about a teaspoonful each) of raspberry preserves onto the top of each bun and, using the tip of a sharp knife, swirl the preserves into the batter, forming a decorative pattern. Bake for 25–30 minutes, or until a cake tester inserted in the center of the bun comes out clean.

Allow the buns to cool for about 30 minutes before sprinkling with confectioners' sugar and serving.