I fell in love with Brother Juniper's bread back when Brother Peter Reinhart was baking it in the back of a tiny bakery/cafe in Forestville, California. The cafe's menu, like its floor space, was brief: A soup of the day, barbecued beef sandwiches (made with Brother Juniper's own superb barbecue sauce) cole slaw, and freshly baked pastries, all of which were packaged to go.

All of Brother Juniper's breads were delicious (nothing like buying bread, fragrant and warm, out of the bakery where it was made), but it was the struan (pronounced stroo-in) bread that became his signature and best-selling bread. And once a week he offered a variation that was impossible for me and other customers to resist (if you had any hope of scoring some for the weekend, you had to get there before noon on Friday): Small loaves of the pane al cioccolato (dark chocolate chips rolled up in the struan dough). It made the most perfect toast for weekend breakfasts, with latte.

The cafe/bakery is long gone; Reinhart sold Brother Juniper's recipes many years ago, and while you can find Brother Juniper's breads in many supermarkets, it's not the same as buying it on the premises the day it's been baked, without the stabilizers which enable a longer supermarket shelf life. Fortunately, Brother Reinhart has published many of his recipes and I can make struan anytime at home. And often do.

Struan with a bread machine:
1 cup, plus 2 T water
1/2 cup buttermilk
3 1/2 cup unbleached bread flour
1/4 cup polenta (cornmeal)
1/4 cup oats
1/4 cup wheat bran
1/4 cup brown sugar
1/4 cup cooked brown rice
2 teaspoon kosher salt
2 T honey
2 1/2 teaspoons yeast


Optional:
Semi- or bittersweet chocolate chips, with or without the barest sprinkling of cinnamon, before the last rise and baking off. After the last kneading cycle, roll out the dough as you would a jelly roll cake, spread the cinnamon-dusted chocolate chips over the dough, roll the dough up and place back into the bread machine seam-side down.

Poppy seeds pressed into the top after the last kneading cycle and before the last rise and baking off.


Place the ingredients in the bread machine in the order listed above (wet ingredients first), isolating the salt from direct contact with the yeast.

Use the white bread setting.

Makes 1 large loaf or 2 small loaves

* * * * * * * * * * * * * * * * *

Luddite-version of Struan (by hand, without a bread machine):

Soaker:
3 tablespoons polenta
3 tablespoons rolled oats
2 tablespoons wheat bran
1/4 cup water

Dough:
3 cups unbleached bread flour
3 tablespoons brown sugar
1 1/2 teaspoons salt
1 tablespoon instant yeast
3 tablespoons cooked brown rice
1 1/2 tablespoons honey
1/2 cup buttermilk
3/4 cup water

Topping:
1 tablespoon poppy seeds

Mix together the ingredients for the soaker. Cover and allow to soak for at least half an hour or as long as overnight.

In a larger bowl, combine the dry ingredients, then stir in wet ingredients and soaker. Add more flour or water until the dough can be formed into a ball that is tacky but not sticky. Place the ball of dough on a clean work surface and knead it for 10 to 12 minutes, then return it to the bowl. Cover the bowl with plastic wrap and allow the dough to ferment until doubled in size, approximately 90 minutes.

Remove the dough from the bowl, de-gas it gently, and split it for two loaves or shape it as is for one. Place the loaves in greased bread pans, spray water on top, and sprinkle a handful of poppy seeds on top.

Cover the pans loosely with plastic and allow the loaves to rise until doubled in size again, approximately 90 minutes

Bake these loaves at 350 degrees for 40 to 60 minutes, until the internal temperature is around 190 degrees. When ready the loaves will be quite brown on top and will make a hollow thud when tapped on the bottom.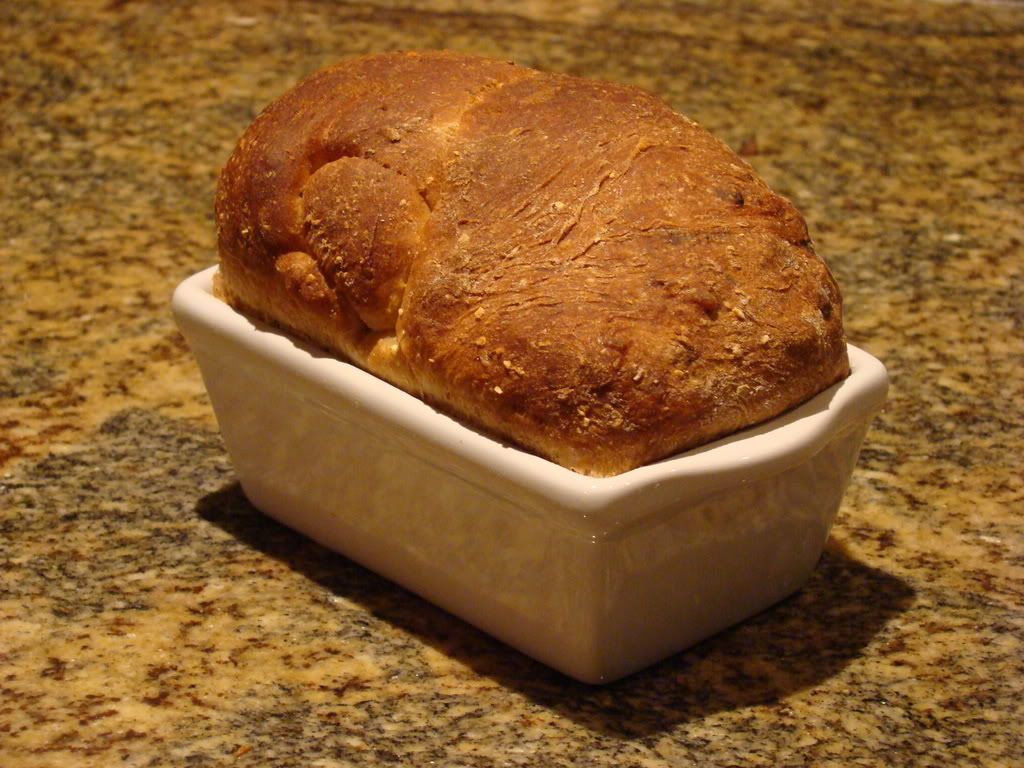 a chocolate swirl loaf of struan, oven-baked