Ingredients for the steak:
1 thick-cut (1½-2 inches) well-marbled New York strip steak, about 1 pound total weight
2 T mixed whole peppercorns (black, white, green, Szechuan and Jamaican whole allspice - All black works well, too)
Salt
1 tsp vegetable oil (canola)
1 T unsalted butter


Ingredients for the pan sauce:
2 T minced shallots
2 T Cognac (or bourbon or red wine)
½ cup flavorful dark stock (or water)
1 T unsalted butter, at room temperature


Garnish with parsley or watercress

* * * * * * * * * * * *

Cooking the steak:

Trim the steak of all the surrounding fat and cartilage.

Crush the peppercorns using the bottom of a heavy skillet.

Pat the steak dry with paper towels.

Sprinkle salt to taste on the top and bottom of the steaks; then press each side into the cracked peppercorns, encrusting the steaks lightly or heavily, as you prefer.

Heat a heavy sauté or frying pan over high heat (iron skillet works well). Add the oil and the butter, swirl and coat bottom of skillet (butter should melt on contact, oil should spread out and start to smoke), then lay the peppered steaks in.

Fry for about 1½ to 2 minutes, until the undersides are well seared.

Turn the meat and cook the second side for about a minute or more.

Press with a finger to test for the slight springiness that indicates rare.

Cook to desired doneness and remove to a warm platter, tent with aluminum foil, and let rest for 2-5 minutes before slicing.


This is cooked to a perfect medium rare on one end of the steak...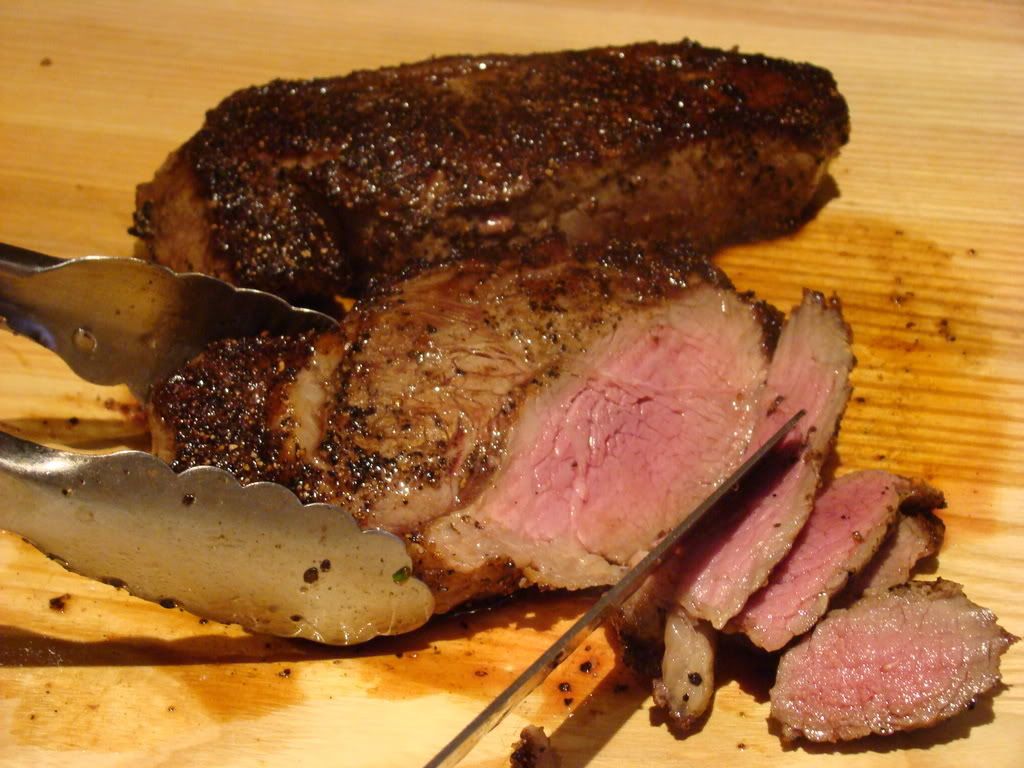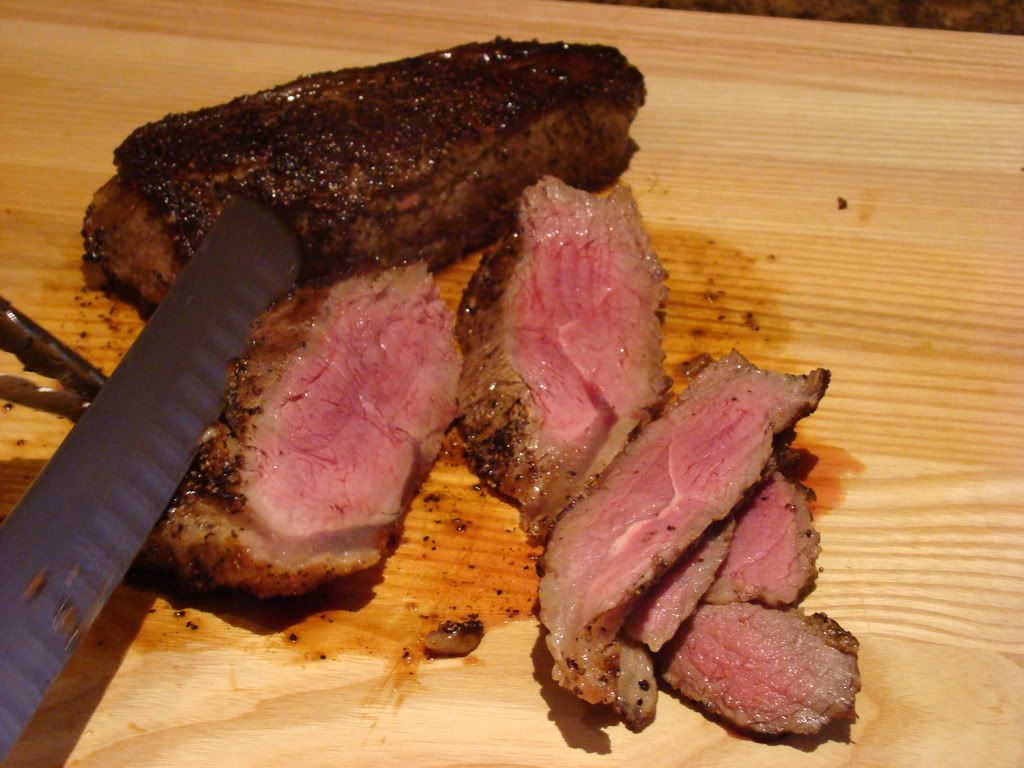 ...to rare at the wider end.


* * * * * * * * * * * *

Making the pan sauce:

Add the shallots to the pan and sauté briefly, stirring with a spoon to scrape up the drippings.

Lean away from the stove (averting your face) and pour the cognac into the pan; tilt the edge of the pan slightly, over the burner flame, to ignite the alcohol.

The cognac will flame for a few seconds as the alcohol burns off; cook for a few moments more and then add the stock or water.

Bring the liquid back to the boil, and cook about 1 minute to thicken the sauce, stirring occasionally.

Taste and adjust seasoning. Finally, add the soft butter, swirling the pan until it melts and incorporates with the juices.

When blended, pour the sauce over the steaks.

Sprinkle liberally with chopped parsley and garnish each plate with sprigs of parsley or watercress.

* * * * * * * * * * * *

Optional:

Sliced crimini mushrooms can be added just after the shallots have wilted and before the cognac.

Sprinkle salt over mushrooms to help release their liquid (add a couple of tablespoons of water if neeeded) and saute until mushrooms wilt.

Continue cooking pan sauce as directed.