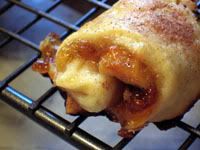 2 cups all-purpose flour, plus more for work surface
1/4 teaspoon coarse salt
1 cup (2 sticks) unsalted butter, softened
8 ounces cream cheese, room temperature
1/2 cup plus 2 tablespoons sugar
1 1/2 teaspoons ground cinnamon
1/4 teaspoon ground nutmeg
3/4 cup apricot preserves
1 1/3 cups (about 1 cup) walnuts, toasted and finely chopped
1 cup currants
1/2 cup golden raisins, coarsely chopped
3 T heavy cream

Whisk flour and salt in a bowl; set aside. Put butter and cream cheese into the bowl of an electric mixer fitted with the paddle attachment; mix on medium speed until combined. Reduce speed to low. Add flour mixture; mix to combine. Turn out dough onto a lightly floured surface. Roll into a ball; wrap in plastic. Refrigerate 6 hours (up to overnight).

Preheat oven to 325 degrees. Whisk sugar, cinnamon, and nutmeg in a bowl; set aside. Divide dough into quarters. Working 1 piece at a time, roll out to a 12-by-8-inch rectangle on a lightly floured surface. With long side facing you, spread with 3 tablespoons preserves, leaving a 1/4-inch border. Sprinkle with 1/4 cup each walnuts and currants, 2 tablespoons raisins, and 2 tablespoons sugar mixture. Tightly roll dough into a log; place, seam side down, on a parchment-lined baking sheet. Repeat with remaining dough.

Brush each log with cream; sprinkle with 1 teaspoon sugar mixture. Bake until golden brown, about 45 minutes. Transfer to wire racks; cool 15 minutes. Cut into 1-inch-thick slices. Store in an airtight container up to 2 days.