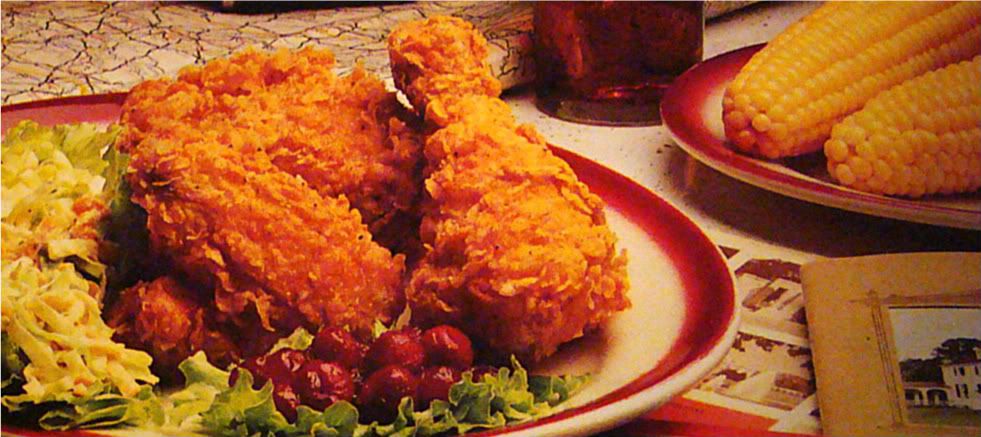 A Hot Shoppe staple.

1 1/2 cups all-purpose flour
4 teaspoons salt
4 teaspoons paprika
1/2 teaspoon coarsely ground black pepper

2 large eggs, beaten
1/2 cup cold water
all-purpose flour, as needed
2 1/2 to 3 lb. chicken, cut up
vegetable oil for frying

Make egg wash by combining eggs and water until well blended.

Combine flour and seasonings in a shallow pan. Stir well to blend. Add chicken, 2-3 pieces at a time, and turn to coat all sides.

Dip the floured chicken in egg wash and then in seasoned flour.

Heat vegetable oil. Brown meaty pieces of chicken first, then add the other pieces. Do not crowd the chicken in the pan, using two skillets, if necessary.

Brown chicken on one side, turn and brown on the other side.

When chicken is lightly browned, reduce heat and cover tightly. Cook chicken until tender, approximately 20 to 40 minutes. Uncover chicken during the last 10 minutes of cooking time to allow chicken to crisp.

Note:

Chicken may be deep fried in a preheated 350 degree F fryer or deep electric skillet, until chicken is tender and cooked throughout. This method will produce a crispier product.